Public Hearing of TAPR/Annual Report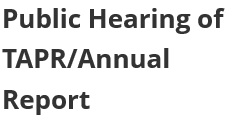 ---
Public Hearing of TAPR/Annual Report
On January 27, 2022, Odem-Edroy ISD will hold a public hearing of its annual report. The annual report includes the 2020-21 Texas Academic Performance Report (TAPR), which compiles a wide range of information on each Texas school and district.
The TAPR includes dropout and attendance rates; college, career, and military readiness; and participation in readiness assessments. The annual report also provides information on the District's accreditation status, campus performance objectives, financial reports, disciplinary incidents, and the performance of former students in higher education.
A public presentation of the report will be held at 5:30 p.m. in the Odem Jr. High School Library.