---
---
Odem-Edroy ISD Board Calls Bond Election Focused on School Safety, Enrollment Growth, and Campus Renovations.
---
The Odem-Edroy ISD Board of Trustees has spent the past year thoughtfully and carefully studying the district's facility needs, growth and enrollment projections, school safety, community input, and a recommendation from the OEISD Long-Range Facilities Planning Committee.
The Long-Range Facilities Planning Committee was comprised of parents, administrators, and community members. The Committee met throughout the year to analyze and study data including a district-wide facilities assessment, demographic projections, safety and security issues, teacher and staff feedback, school finance and community input. This culminated in a recommendation to the Board of Trustees. With a unanimous vote, the Board approved the recommended projects and called a $15,800,000 bond election to be held on May 6, 2023.
The proposed bond package will focus on four areas: safety and security improvements, accommodating growth in student enrollment, addressing aging facility conditions, and evolving student programs.
"We are extremely appreciative of the hard work and dedication of our parents, staff, and community in developing this bond program for our students," said Mrs. Yolanda Carr, OEISD Superintendent of Schools. "The committee prioritized safety and security at our schools as well as renovating aging campuses and expansion of K-12 STEM and CTE programs for our high school students. Lastly, a new gym at Odem Junior High School will address the issues we have with limited physical education and extracurricular space and conflicts with practice and game schedules due to a lack of gym space."
| | | |
| --- | --- | --- |
| | | |
| | | |
| | | Elementary & Intermediate campuses |
| | | |
| | | |
| Data & Technology Infrastructure | | |
| New Gymnasium for Junior High School | | |
| Renovate Junior High band hall for multipurpose use - Elementary PE | | |
| Update Facilities: Deferred Maintenance | | |
| | | |
SAFETY AND SECURITY
The bond program will provide access control and place card readers/badge access at all campuses. It will also provide school lock-down systems for emergencies, intrusion resistant glass, security cameras, security fencing, public address system expansion to cover all parts of campuses, and other safety enhancements. The goal of these upgrades is to enhance the safety and security of students, teachers, and staff throughout the district.
PROVIDE SAFE ACCESS TO SCHOOLS
The bond will also address traffic flow issues at the Elementary and Intermediate campuses with upgrades and repairs to the parking lots, add turning lanes, and reconfigure the student drop off lanes at the elementary school. These renovations also include drainage improvements to alleviate flooding and standing water issues at Odem Elementary School.
ENROLLMENT AND PROGRAM GROWTH
Odem-Edroy ISD continues to experience growth in student enrollment. The addition of a new gymnasium at Odem Junior High School will provide a space for physical education classes, regulation size courts for basketball and volleyball, locker rooms, support and public spaces including restrooms and concessions. Technology Network Infrastructure, structured cabling system, server infrastructure, and cybersecurity are among the planned technology upgrades. Additions to the Science, Technology, Engineering, and Math (STEM) K-12 programs for more student participation. Expansion of Career and Technology Education (CTE) programs will allow for increased enrollment in CTE programs and career exploration. These programs include, but are not limited to robotics, engineering, computer aided design, construction technology, coding and programming, graphic design and 3D animation, audio visual production and broadcast journalism.
If approved by voters, the bond program would increase the tax rate by approximately 10 cents. The tax increase on a $100,000 home would be approximately $8 per month, the increase on a $150,000 home would be approximately $13 per month, and on a $200,000 home would be approximately $17 per month.
Odem-Edroy ISD has lowered the tax rate a total of 39 cents over the past 4 years. If the bond passes, the tax rate will continue to be 29 cents lower than it was 4 years ago. In addition, the State is expected to continue to lower (compress) the Maintenance and Operations (M&O) tax rate, so the future total tax rate could be even lower.
Public Notice of Test of Automatic Tabulating Equipment
(Aviso publico de probar el equipo para tabular electronicamente)
Click below to see one-page overview.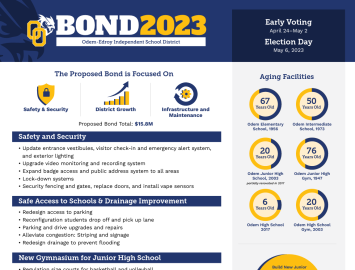 ---